by Anna Dittrich, photos by Giang Pham
Art of any kind can be lonely at times. It is hard to explain why certain combinations of colours and shapes manage to provoke an intense emotional reaction, whereas others leave us cold.
Trying to put emotions or thoughts into actual words when confronted with art can be a hard task, something most people would rather leave to art critics or other artists. However, this does not have to be the case at ARoS, Aarhus' art museum.
"What do you think happens next?" reads the text on a monitor in one of the museum's newest exhibitions. It shows a photograph by Annika von Hausswolff called 'Girl With Chainsaw', portraying, as the title implies, a young girl holding a chainsaw almost as big as her upper-body.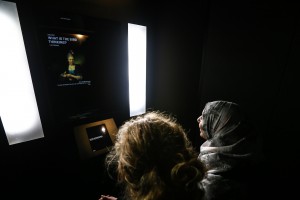 On its own, a mere picture hung in an exhibition, the photograph might have just briefly caught your eye. It might have caused amusement at the slight bizarreness of the scene, or perhaps unsettlement in those concerned about child safety. But it would probably not have lead to a discussion about the work itself.
ARoS's Commentary Box is trying to change this approach. "What do you think happens next?" it is still asking, waiting patiently for an answer to record and then turn into a GIF through speech-to-text technology.
The Commentary Box is part of ARoS Public, a newly designed gallery at the museum with the specific aim of creating new interactions between the public and art, and between those visiting museums together. "Having certain experiences and a place you can share them is important to us," explains Marianne Grymer Bargeman, Head of Interpretation and Learning at ARoS.
A new approach to experiencing art
At ARoS they describe themselves as a playground; fitting, considering the other two digital stations besides the Commentary Box that visitors can interact with.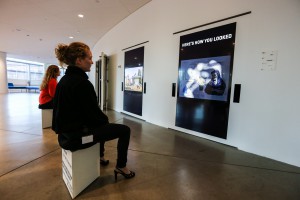 The Eye-Catcher, for example, tracks what people are looking at, and then compares the results. Somebody might try to take in as much as possible, whereas another might get caught up in a specific detail of an artwork. It works as a conversation starter, and although the technology is not without its weaknesses, especially for those wearing glasses, it is interesting to see where exactly and how long we look when we first see an artwork.
A little more physical engagement is needed for the Portrait Machine. Here, one visitor chooses a pose for another to imitate. A computer will then register certain parts of the pose and suggest pieces of art similar to them by putting them over arms, heads or legs.
The visitors then have the chance to revisit their portrait, choose different pictures or add a quote by a famous artist. If they feel so inclined, they can have a copy of the pictures sent to them by mail to share with others later. "We've experimented with saying that art is the most fun when it meets you and your friends or family," explains Bargeman.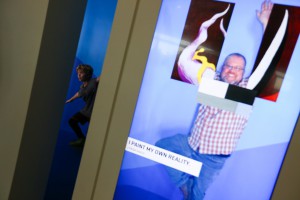 A conversation between artists and the public
However, while all of these activities are aimed at inspiring people to talk about art, ARoS is also hoping to start conversations between visitors and artists. In the Artist-In-Residence Studio, visitors will have the chance to watch and talk as an artist creates something new. Different artists will, for a certain period of time, use the facility as their workshop.
For up-and-coming artists, the ARoS Salon works as a mix between a workshop and an informal meeting space, in contrast to the ARoS Auditorium, where bigger formal events will be held.
Like the rest of ARoS Public, these areas also serve to create conversation about art between groups of visitors or artists and the public. "It creates space for new debates and new ways of being together," concludes Bargeman.
---
ARoS Public is part of ARoS Aarhus Kunstmuseum, open Tuesday to Sunday, 10:00 – 17:00 (closed on Mondays). You can find out more about ARoS Public on the website, and information about their current and upcoming exhibitions here.