By Louise Soares
For young entrepreneurs, creating a Startup company is the first step in climbing the ever-competitive business ladder. With inspiring tales of companies who began as startups, especially in the tech field, and the relative simplicity of kick starting a business from your computer, there are no shortage of incentives to experimenting with this format. Still, the road from turning a good idea into a successful business is a tricky one, where many entrepreneurs can get misdirected or lost along the way.
Last Thursday (03/11), aspiring entrepreneurs from Aarhus had the opportunity to seek some professional guidance at #AARSOME Townhall. Hosted at the Dome of Visions, the event was part of an initiative to boost the startup scenario in Aarhus by giving entrepreneurs an opportunity to connect with each other.
"Right now, as we see it, the Aarhus startup community is pretty fragmented. We want to gather it together to stay stronger," tells Lea Kruse, one of #Aarsome's project managers. She remembers that integration is key to make the startup scene bloom in Aarhus:
"One of the thoughts that we are working with is: if you want to go fast, go along. If you want to go long, go with others,", says Kruse.
The starters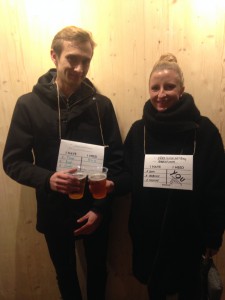 The #Aarsome project borrows its entrepreneurial values from the Silicon Valley. Their vision is to become the fifth biggest tech hub in northern Europe. To achieve this goal, the organization seeks to create a interactive platform to keep the Aarhus startup community connected through a collaborative network.  This way, the companies can offer their services and hire professionals with the skills they need. Tech startups are #Aarsome's main targets, but companies from other fields are also welcome to join. Vicky Kathborg and Rune Andersen work for a startup company that provides a platform for meeting groups and took the chance to showcase their ideas.
"The startup scene has been on the rise here in Aarhus for a couple of years now. You have places like 'startup cities' that are taking a lot of startups and trying to bring it to the city. I think it is beginning to show. You hear about all this new companies. Getting the word out and getting people to use the platform is our biggest challenge," says Andersen.
The masters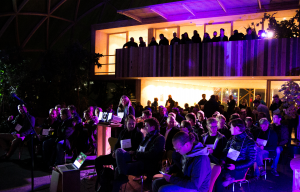 Besides providing entrepreneurs with an opportunity to network, the initiative also seeks to connect them to more experienced professionals. Morten Larsen, one of the creators of Hungry – an online marketplace for takeaway restaurants – was one of the speakers at the event. His advice for young entrepreneurs is to be careful as to not over analyze or investigate the things you want to do.
"Get it started in a small way, where you can afford to run the business. You can run a business for no money and test your ideas. Second thing is to team up with somebody who can do the things you are not strong at. If you are great at numbers, maybe you need to find a commercial guy and the other way around," says Larsen, who also believes that the city of Aarhus needs to improve its infrastructure in order to become more attractive for startup companies.
"We have a few issues in Aarhus and that is one of the reasons that companies move away from the city once they grow big. The infrastructure is super bad here. When I am visiting my business around the world, you can have all this direct flights to all these nations. If you do this here, you need a connection to somewhere else. I have a business in Amsterdam and, when I'm going from Amsterdam to no matter where, it is not an issue. It is cheap, it's fast, I can go everywhere," says Morten Larsen.