By Sarah Price, photos by Zann Huizhen Huang
Last summer, the Islamic veil made a buzz in Europe when several resorts in France banned the burkini, a full-body swimwear covering the hair, arms, and legs. After several terrorist attacks hit major cities on the continent, the policy further heightened tensions between the Muslim minority and the rest of European society, which was already being tested by the refugee crisis.
A few hundred miles northeast, however, a group of young Muslim girls do their best to carry on despite the backlash faced by Muslims on the continent. Up in the Jutland Peninsula, they proudly wear their hijabs as they train with a football club in Aarhus, the second largest city in Denmark. Headscarves and hair blend together as 30 members from different ethnicities play together at ACFC Gellerup, based in the district of Brabrand.
Maymi Asgari, 18, is one of the hijab-wearing girls in the club. Born and raised in Denmark, after her parents fled Iran, she picked up football almost the same time she started wearing the hijab 10 years ago.
"I don't have any difficulties wearing hijab while playing football," she said, tugging the black headscarf framing her face. She does not feel the need to take off her hijab in order to fit in. For Asgari, playing football has helped her make friends and connect with other people.
"It's a way to communicate with others, you don't even need to speak the same language," she said. "You forget about all your other problems and just play; that's why I love it."
As a hijabi girl, Asgari says it is difficult to start playing a sport, because only a few Muslim girls who wear the headscarf pursue athletic activities.
"There aren't a lot of young girls playing football in hijab, so when we see it, it makes it more realistic and gives us confidence to do it ourselves and think of it as a normal thing," she expressed. "It gets easier when you see other girls play."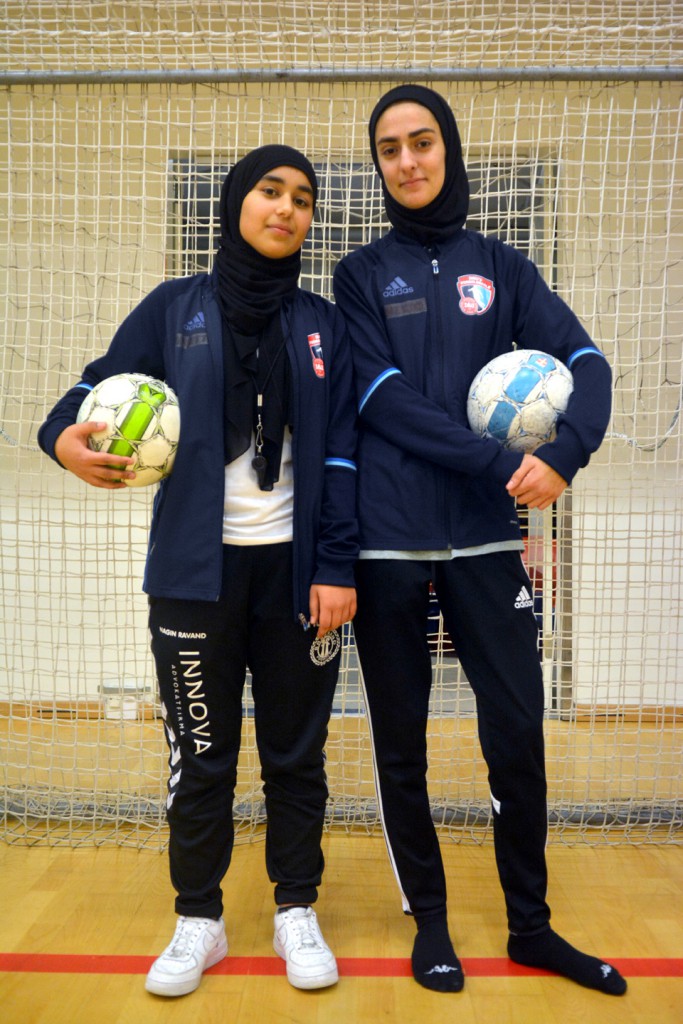 The inclusion of hijab in the sporting world has taken a leap when Danish sportswear brand Hummel built the hijab into the Afghanistan's women's football team uniforms in March this year. The resulting sports hijab makes it easier for women to be athletes and practice their faith at the same time.
However, football has not always been so welcoming to the hijab. The sport's governing body, FIFA, only allowed them to be worn during official matches in 2014 after banning head covers in 2007 due to concerns over the risk of injury.
But for Nagin Ravand, who coaches Asgari's club, the hijab does not affect her playing at all.
"You play with your feet. Just like it doesn't matter what colour your hair is or what colour your clothes are, it doesn't make a difference at all," she said. "It only makes a difference if you make it yourself. If I were irritated wearing the hijab, then why would I wear it?"
Ravand, 17, fled Afghanistan with her family when she was only three years old. They built a new life in Denmark, where she was introduced to the sport. Some of her friends in grade school often played football, and when she was in third grade, Ravand became curious enough to join.
Football quickly became more than just a hobby, and due to her talents, Ravand has been asked to coach the football club despite her young age. She has been on the job for more than a year now after the previous coach married and asked her to take over.
"I love football so much, and I wanted to give others the same joy it gives me, especially girls, because mostly men play here and the girls also have amazing talent," she said.
Ravand's team started with just a few people playing on the street every Sunday, until interest grew and more wanted to join. Now they have built a small community of people from different backgrounds brought together by their shared love of the sport.
According to Signe Agergaard, an associate professor of sports science at Aarhus University, sports such as football could play an essential role in integrating ethnic minorities into Danish society.
She said, however, that there are various processes involving integration, and warned about the 'one-sided' perspective on Muslim women playing sports.
"It's very important to recognise that Muslim girls and women practice sports in many different ways. If the hijab is used in essentialising all Muslim girls' way of practising sport, the acknowledgement of diversity may become limited," she said.
Asgari holds a similar view, saying that people should think of girls wearing hijab while playing football as normal, like everybody else.
"It doesn't need to be a big deal like people make it out to be sometimes," said Asgari, who also serves as an assistant coach to the club. "We just want to make other girls experience the same thing as us, playing football no matter what they wear."