By Roberta Rocca
The exhibition 'No Man is an Island- The Satanic Verses', currently on show at ARoS art museum, is political in a fundamental, almost philosophical way.  The choice of the title is already straightforward in this regard.
It is an excerpt from a well know poem of John Donne's. Claiming that "no man is an island" here equals to evoking the essentially political nature of human beings. Individualism, in its strong sense of isolation from the social context, is not just a wrong or morally questionable standpoint: it is almost as absurd as a logical inconsistency.
In search of your political identity
The exhibition itself can be regarded as a cleverly built experiential proof of this claim: it takes the visitor through an introspective journey across the symbols of your political identity. It is figurative in a slightly unusual sense, in that despite the relatively low number of traditionally figurative works, it evokes the visual archetypes of your times and culture.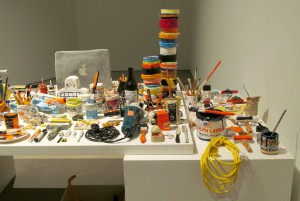 Through a powerful reenactment of the social imagery of our times, the exhibition aims to make you aware of your own political identity. But far from being a merely celebratory exhibition, 'No Man is an Island' is more of a mournful experience. It is a walk through the shreds of our social imagery, through the ruins and remainders of a sociopolitical era.
As explained by museum director Erlend Høyerstens in the thoughtful introduction to the exhibition, 'No Man is an Island' is an "exhibition about the place of art, knowledge and philosophical thought in a new Europe, a Europe threatened by fragmentation". Indeed, the exhibition engages you in a constant questioning which is far from trivial. It is a rather insistent type of questioning, which is reiterated by each work in its own medium and language.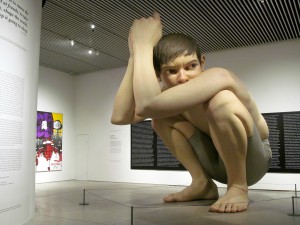 Is the big boy lost?
The first work on show marvellously sets the stage for the whole exhibition. Roy Mueck's supersize Boy is located in the corner of the first exhibition room. Triggering an illusion of dynamicity, he struggles finding room for himself, crouched and compressed in an uncomfortable, shaky, precarious posture. Eyes wide open, he looks at the exhibition from aside with a mix of curiosity, dread and hesitation.
It becomes clearer and clearer as you progress through the exhibition that the discomfort of Mueck's gigantic sculpture has a meta-aesthetic value. It says something about your own discomfort in walking through the remainders of your culture. But above all, it embodies the discomfort of art in modern society, its quest for a new socially meaningful function.
The whole first part of the exhibition is characterised by this same sensation of loss and confusion. Gilbert and George's Resting depicts a pop-art-like portrait of death as sleep, against the skyline of a not clearly identifiable, but somewhat familiar, city.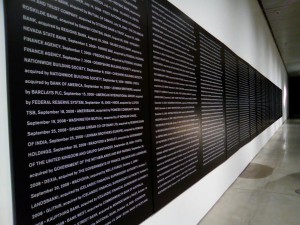 Information that becomes art
After this figurative start, the exhibition proceeds with Bankrupt Banks, August 23, 2013,  by art collective Superflex. Covering almost the entirety of a wall in the first room, the work lists all the instances of banks that have gone bankrupt in the last decade.
You are invited to walk along an interminable flux of names, numbers and dates. An information overload which escapes your perceptual control, and evokes some sort of dystopian sci-fi scenario. It is a remarkable example of how the legacy of conceptual and new media art can be integrated in what is sometimes called a post-conceptual framework, where authorship is given up to collectives and information itself generates (or rather becomes) a politically meaningful aesthetic experience.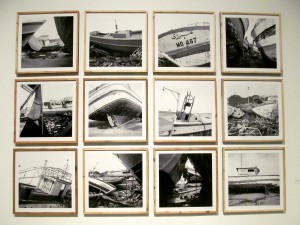 Among the many remarkable works on show, Revolution by Tracey Moffett is another cornerstone of the exhibition. The photographer, who will represent Australia at the Venice Biennale in 2017, edits together movie clips depicting the fall of political regimes over the last centuries. The result is a climax full of pathos which tells the history of our political identity through powerful scenes from its most sensational failures.
The part of the exhibition that follows is masterly staged as a multi-work installation or experiential space. The telling of the sociopolitical catastrophe at stake is here embodied in the choice and arrangement of E.B. Itso's Clandestine Boat Cemetery – a collection of photographs of derelict boats in Lampedusa; Elmgreen & Dragset's Welcome, 2014; Bjorn Nørgaard's Hesteofringen; and Gardar Eide Einarsson's Flagwaste. Together, these works shape a desolate landscape of shreds and ruins, both a metaphorical and factual waste site of the political identity of the Western world.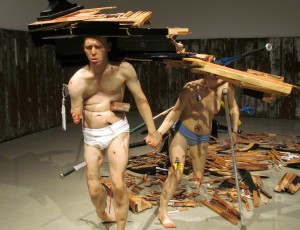 Be part of the catastrophe
Overall, 'No Man is an Island- The Satanic Verses' claims that art cannot but be a political act. That art is grounded in space, time and society, while at the same time being able to cross geographical and temporal borders. In other words, it cannot but be individual, local and global all at once. Engaged and detached. Its struggle for a legitimate spot with respect to its time is part of its paradoxical essence.
But on top of that, just like Ron Mueck's Boy, art reminds us that we are doomed to discomfort, too. We are part of the catastrophe and observers all at once. Trapped among the ruins of the Waste Land, you cannot "send to know for whom the bell tolls". As you now know, "it" – very clearly – "tolls for thee".
---
'No Man is an Island- The Satanic Verses' will show at ARoS art museum, Aarhus C, until January 7, 2018. You can find out more about the exhibition, as well as others at ARoS, on the website. Entrance to the museum is 120 DKK for adults, 90 DKK for under 28s, and free for under 18s. A season ticket for under 30s is 200 DKK, and includes unlimited visits for yourself and one friend (who must be under 31) for one year.