Running clubs in Aarhus have an enormous number of members. Why is that? As it turns out, jogging can be fun when doing it in a lively community that offers many social events as well. Jutland Station introduces three of the city's most popular associations.
by Isabelle Bonenkamp 
The club is organized by the Student House. Participants meet twice a week at 5.15pm, starting from Stadion Alle 70 on Tuesdays and from the Student House on Thursdays. The practice is done in English. One of the 200 runners states: "I really enjoy it. They push us in the way we want to be pushed. Plus there is the social aspect, I made friends here. It is like a common project, we are working towards the same thing."
As indicated on the webpage, this semester's goal is to make all the members participate in the Aarhus City Half Marathon in June. Mette, 25, anthropology student, and Eva, 26, PhD in economics, are sisters who joined the club in January this year. They consider the half marathon as an incentive: "We started running two years ago. But we needed a new challenge so we tried Run for Friendship – and it is fun."
Aik, 26, Software Engineer, true Aarhusian, has a more concrete goal when it comes to the half marathon: "I am aiming at running it under 1 hour and 48 minutes. My roommate pushed me into this one and a half years ago. Last year, he ran the half marathon within 1 hour and 16 minutes."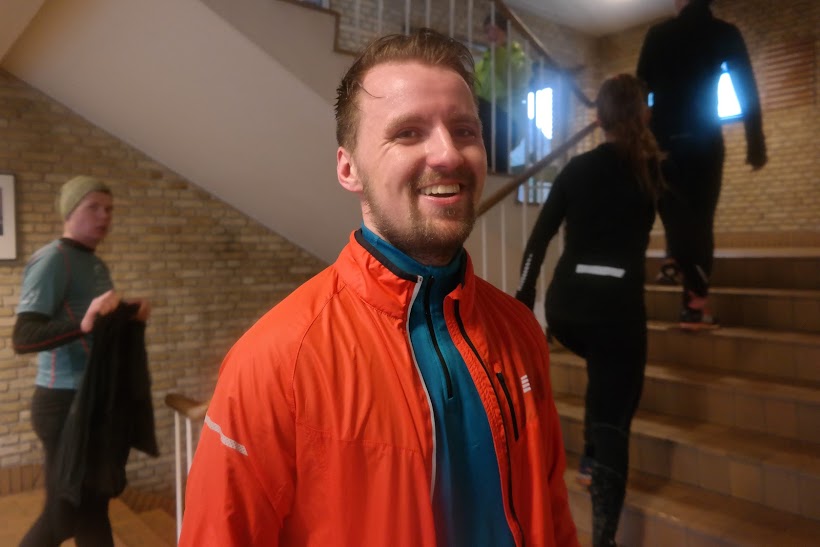 There are five different levels of training – each according to the level of expertise, speed and motivation of the individual member. Mette and Eva are on level five which means they are beginners. Camilla, a health and nutrition student, is their instructor. While all groups start together and have the same route, everyone goes as he or she can. Eventually, group five takes a shorter route.
Very often the entire club goes to Riis Forest where all groups meet and do exercises like squats. Afterwards they continue running. Occasionally, all groups run the same paths for 20 minutes in a circle. When the 20 minutes are over, there is a finish line and all members applaud to those coming in.
Then it is time for IPSP – Injury Prevention and Safety Promotion. Camilla explains that it is part of the workout routine at Run for Friendship. All of the members get themselves a partner and do strength-training as a couple. Holly, head instructor at Run for Friendship, leads the exercise. Having left the UK two and a half years ago, she is working for five different running clubs at the moment.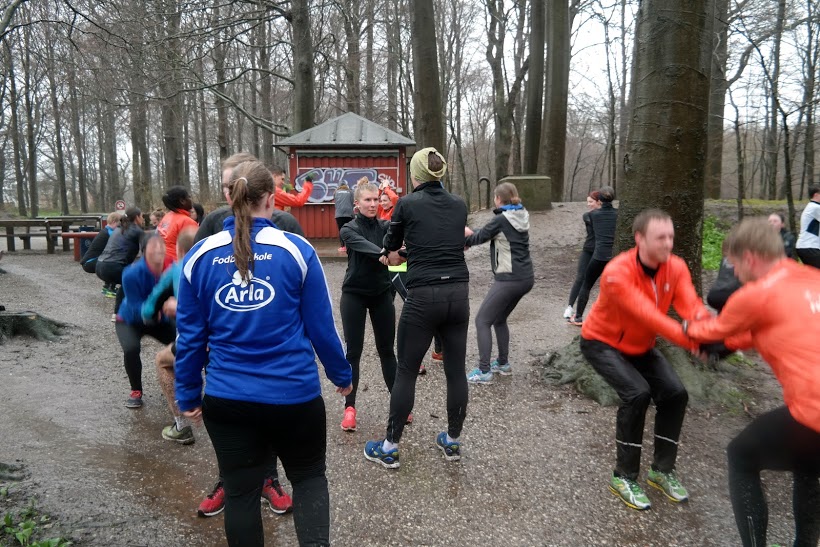 After the injury prevention is finished, everyone runs back to the starting point where voluntary circuit training takes place. Moreover, members frequently have a drink together after practice. Also, they are having parties frequently – Julefrokost and Easter dinner as an example. "Last weekend", says Annette, the social event manager of the group, "we went to Berlin for the half marathon. And tomorrow evening we are having another party here at the student house." After all, it is about friendship – and running.
Training costs 100kr per month for students and 200kr per month for employees.
The club was founded in February 2014 by two semi-professional handball players, Søren Bisbo and Jacob Halle, who describe their club as a cultural institution: "We bring people together in Aarhus with the primary goal of running but it is more than that. We also focus a lot on creating social occasions, parties and tours."
Runaar meets three times a week in the evening at Skanseparken, but regular attendance is not required. They have over 200 members and six different speed levels – from 6.30min/km to 4min/km. Every speed level is headed by an instructor who can adjust to the needs of his group.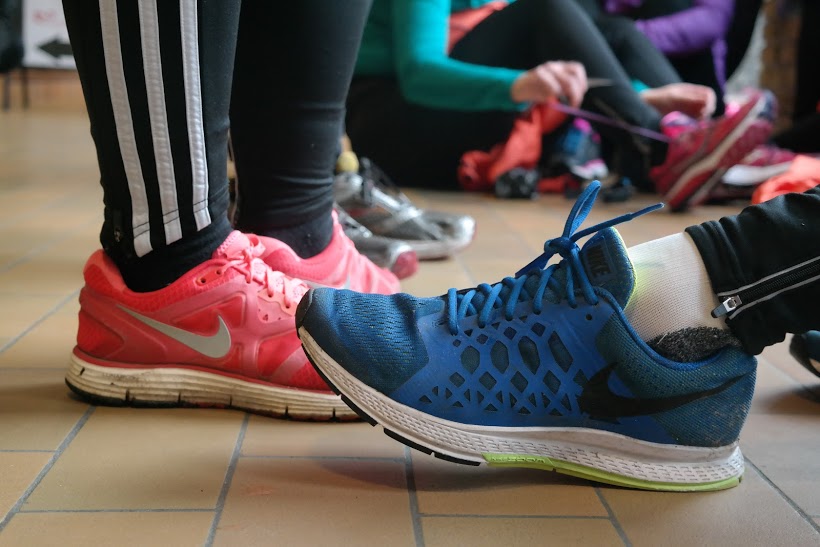 Meanwhile, the participant can choose the length of practice: On the "Monday Mingle" one runs either 3.5, 5, 7.5 or 10 km whereas the "Wednesday Wheeze" offers 4, 6, 9, or 12 km. On the "Friday Frenzy" everyone can go wild with interval training including a lot of sprints. The overall motto as indicated on the website: "RUNAAR brings people together and creates great running experiences in Aarhus – targeted everyone – for free!"
In order to participate one simply subscribes to the events on Facebook. If all three dates do not match the calendar, there is also a Facebook network – Runaar Løbaar ­– where around 1600 runners post and plan on running together everyday.
This club has special ideas to also include kids into practice – at least once a year. The Devil Hill Run is a social event where the participants go for a 6,66 km run (yes, 666 is the devil's number) and get chased by the devil. Meanwhile the children get another route of 1,5 km with less frightening devils and fire-spitting jugglers on the way. Like a true family event, everyone comes together for cake and games after the run – but while there is no award ceremony for the runners, the best look-alike-the-devil-cake gets honoured.
Whoever might be less interested in this crazy event has the opportunity to participate in Running Wild all remaining 364 days of the year, since they offer training every day. On Tuesdays and Fridays they have interval training at Riis Forest. On Mondays and Wednesdays they offer group training – everyone can run in a group that fits his pace. The different tempo groups are the Pandas (6.15min/km) who are running 6.5km, the Opossums (5.45min/km) who are running 7.7km and the Panthers (5.15min/km) who are running 9km. To keep the speed, Running Wild has pacemakers in every group.
Activities for the remaining days of the week are written out on the Facebook group where one also registers for the regular exercises simply by commenting. It is important to note that participants generally should be able to run 6km. However there is the option to participate in the Penguin group for beginners. Their training takes place on Wednesdays. Lisbeth Andersen, the oldest runner at Running Wild (Year 1949) is one of the Penguins' pacemakers: "I am so happy being with Running Wild, with all these nice people. Besides, it is a nice side benefit that you can eat all the cake you want." The second pacemaker of the Wednesday group is Lene Birn, 47 years old and a mother of two children. She has tried everything already: Dancing, Sqash, Handball… But now she is addicted to running: "It makes me happy. It is fun. It is social. And I feel awesome when I am in the shower afterwards."
Except for the pacemakers there are the instructors who organize and lead the exercises: Rune Liebling, the founder of Running Wild, Søren Quist, special running instructor and Anni Hoffmann, an enthusiastic trail runner in her 40s.
Running Wild is for free.