Up-and-coming producer HansSOLO recently released his first EP and is already making a name for himself on the Danish hip-hop scene. Paris Bethel met with him at SPOT Festival on Friday to find out more about where he's headed.
by Paris Bethel, photos by Laura Urbonavičiūtė
HansSOLO, otherwise known as Hans Hornbek, began producing music when he was 14. Influenced by the late 90s and early 2000s, and artists such as The Roots, Mos Def and Erykah Badu, Hans wanted to learn how to recreate the vibe during a time he felt hip-hop was lacking.
It was around 2011-2012 when he first started experimenting, explaining, "I started remaking beats so I could understand the structure and the pulse." He continued to practice until he felt they were at a point they could be released or collaborated on with rappers.
Around this time he was also watching YouTube videos of American rappers, which is when he found someone worth reaching out to. "I found this dude, he was 15 years old, and there was this video of him freestyling in a backyard in New York," says Hans. "He was really good. So, I hit him up and sent him some beats."
The teen eventually became Joey Badass, famous American rapper and founding member of hip-hop collective Progressive Era. At the time they started collaborating, Joey Badass recruited Hans to join what has expanded to become one of the leading hip-hop collectives in the world today.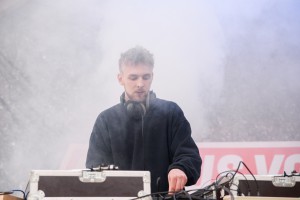 "They wanted to become the change they wanted to see in hip hop," says Hans. The goal of the collective was to restore the meaning and lyrical quality of 90s and early 2000s rap – to bring back the word play and other elements within hip-hop that had faded out.
Hip-hop's stagnant moment during this time fuelled this restoration of a new version of the old school vibe, building it off of an ode to the past, but also adding and shifting elements to create new sounds.
"It became, not mainstream, but more people wanted to hear that 90s sound… I don't view it as 90s music, I just view it as taking the elements from that, just paying dues," says Hans. He feels this is something felt within hip-hop today, and that a new space has been opened up where collaboration and experimentation fuel creativity.
"ASAP rocky, Kendrick Lamar, Anderson Paak, Knxwledge, and Thundercat, they're all artists feeding from this new space," Hans continues. "It's a good place for hip-hop right now."
Today Hans is still making beats, recently having released his first EP, On the Wheel. It's a hip-hop project in collaboration with American rapper Sincere, but Hans says he has a lot more in the works. "I want to be more creative with my music."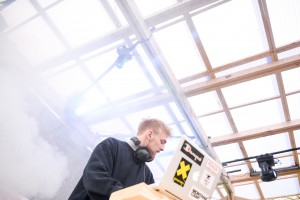 The interest in expanding creativity within his production comes from his involvement with the creative collective here in Aarhus known as 'The Institute of X'. "The institute has been a springboard for everything I do," says Hans. Located in the area behind Godsbanen, the institute houses a space for people to go and create. The X in the name, Hans says, "can be anything… The only rule is that you have to produce something."
The area by the institute was built up over the past five years, and now "has basically become a city within a city," says Hans. "It's a very inspiring place," he continues. It is here that Hans became interested in expanding to experiment a bit more with his music.
Looking forward, he wants to continue on the track he's on. "I love doing events and involving myself in everything," says Hans. "So I'm slowly working on a lot of things. It's a blessing and a curse."
At 19-years-old, Hans has a sharp sense of himself within the space of music, and a signature style mixed with just the right amount of nostalgia. Already well-known within the Danish hip-hop scene, it's looking like Hans is gearing up to make similar waves outside of it too. Keep a lookout!
---
To check out some of HansSOLO's tracks, click here.