On Friday evening the SPOT Aarhus Volume stage showcased artists from new Danish music agency Ohwell Booking. Spectators had the opportunity to experience some of the up-and-coming 'left-fielded' music styles of Denmark today.
by Paris Bethel, photos by Laura Urbonavičiūtė
The Godsbanen area yesterday hosted a range of live music and DJ sets. Alternative sounds came from every stage, both indoors and outside, with influences ranging from hip-hop and electronic to folk and rock. The scene fused elements of all kinds of music styles, and the main outside open stage, Aarhus Volume, hosted dozens of artists throughout the day. At 19:00, Ohwell Booking took over the stage to showcase some of their acts.
Officially announced in February this year, the music agency is the creation of Sean-Poul de Fré Gress, who goes by Sean. The agency has no permanent staff or official office, but the supportive alternative music environment within Denmark allows for a lot of collaboration which keeps things running smoothly.
Sean's inspiration to create an agency came from experience. Having spent over nine years in the music industry, he eventually realised he wanted to switch things up. So, he came up with the idea of creating an agency that did not function as a label, but rather as a platform for pushing out rising artists. Today he represents 15 new and up-and-coming artists from all over Denmark.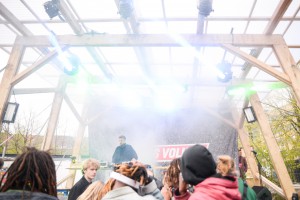 "There's so much music already here; everybody has been evolving quite fast and making a name for themselves within the culture, the environment, and internationally as well," says Sean. "I started this thing to help push some of it out."
Showcasing a combination of live music and DJs, inspired by the likes of hip-hop, jazz, funk, and electronic, the aim of Ohwell Booking falls in line with the mantra of SPOT Festival itself – to create and collaborate on platforms to help music artists in Denmark gain exposure.
However, Sean points out that "it was only about three years ago that SPOT Festival started integrating the more alternative music." Playing it more 'safe', music at the festival used to exist within a tighter creative space.
Sean feels the reason why the festival finally came around is in part because of his efforts along with others inside his music collective, who collaborated to create a SPOT Off Festival in 2012 – a spin off of SPOT Festival itself. Sean and the artists put on the SPOT Off festival for three years in a row, concluding in 2014 when Sean moved back to Copenhagen.
"We wanted to make SPOT realise we have all this great alternative music that doesn't necessarily have management or a label backing them, but is more than export-ready," Sean explains – and it worked.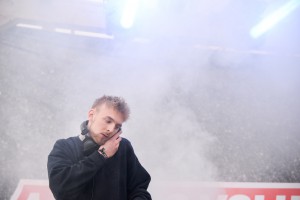 Today, partnering with SPOT Festival is much easier. The music environment within Denmark is taking off and has become even more collaborative and experimental in pushing out content. The inspiration behind the creation of the Ohwell Booking reflects that, as the space for truly alternative sound within Denmark is getting bigger and becoming not just accepted, but sought out.
Catching the showcase after the interview, the artists did not disappoint. HansSOLO, a 19-year-old producer, opened the showcase with a chilled DJ set to the likes of Thundercat, Childish Gambino and Anderson Pakk. Blending the tracks with ease, he exuded experience and comfort on the stage. Rounding up the showcase, another highlight, Athletic Progression played a groovy set with an equally raw edge. A hip hop instrumental trio, their live set was a memorable way to finish things off, leaving the crowd with good energy.
The showcase was an opportunity for these artists to get their name out there, but it was also a chance for Ohwell Booking to gain some exposure. Sean says his main focus moving forward is to get the music he is tied to over borders. SPOT is giving him a chance to reach out and collaborate with people outside of just Denmark, which is exciting for both his agency and the artists it represents.
---
Ohwell Booking is hosting two free events tonight at Aarhus Volume: The Palace (20:15) and Kelis Khatib (21:45). Look out for future intimate concerts at Bark Studio in Copenhagen. To find out more about Ohwell Booking, check out their website here.