Text by Gabriel Prieto Ch.
Photos by Gabriel Prieto Ch. and Serla Rusli
An app for psoriaris patients? This was one of the ideas presented at the Startup Weekend Aarhus-Health, 2016. The conference, held from the 12th to the 14th of February, put to test the innovation skills of around 50 entrepreneurs who gathered to create solutions for health-related problems.
From eight teams, four were awarded, and two were invited to discuss their ideas with Microsoft, including Webee –the aforementioned psoriasis app. Annette Norgaard, responsible for startups and students in Microsoft Denmark, explains that there are two main sectors of development they are currently interested in when it comes to startups: health and financial IT's.
"I really believe that Aarhus has a strong commitment to the healthcare hub, and to the financial tech as well", Norgaard says. "All the winners had relevant solutions for common problems and, from Microsoft, we're investing a lot in startups, especially the ones developing some kind of solution based on the use of IT and Internet of Things (IoT)", she adds.
Webee aims at creating a community amongst people suffering from psoriasis. "We want to deliver an information solution which organizes and concentrates all the overwhelming data in one portal", says Leonel Bustos Barbé, co-founder of the project.
What is psoriasis again? It is a skin condition in which the body begins to generate skin cells ten times faster than usual. All those newly created cells start gathering one on top of the other, and only a few are eliminated by your body. Because of this, the skin starts presenting spots of thick-dry skin that could easily irritate and produce pain.
According to the creators of the project, recently diagnosed patients want, primarily, accurate information of the illness in order to understand what is going on with their skin. That is why a group of young people from countries like Chile, Denmark and Latvia, started designing the first social media platform focused on the spread of information related to this persistent illness.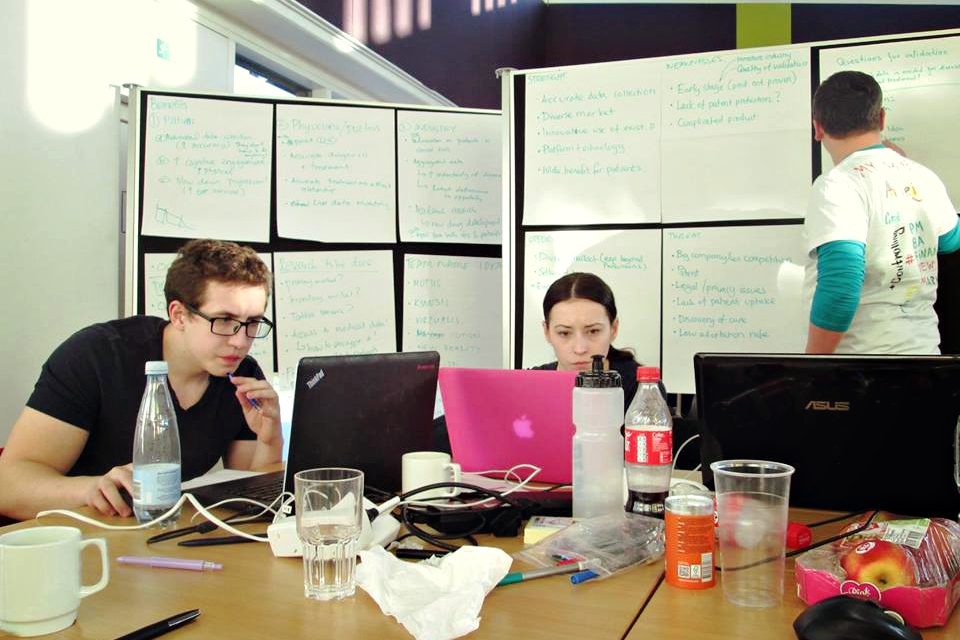 The idea is simple: gather all the possible information and put it together in a space where psoriasis patients can create an online community. This solution, according to Barbé, will help patients to overcome the overwhelming diagnosis of an illness with no cure.
"As many people are not satisfied with the treatment given, they tend to search for other solutions on the internet; they will probably find some blogs or forums, but there is no platform strictly dedicated to offering information of psoriasis while creating community amongst the patients", Barbé explains.
But why do they want to create a community amongst patients while giving information? According to the designers of the project, the idea emerged once they analyzed several Facebook group pages about psoriasis. Even though the concept of community was already conceived on the social platform, "people were gathering to be confused together, due to the lack of trustworthy information", Barbé says.
Besides creating a community, the creators of the project want to go a step further. "The platform will be a bridge between patients and pharmaceutical companies": with the patients' data, Webee will be able to provide selective information to every user. "We want to be able to suggest the users the treatment that best fits to the type of psoriasis they have", Barbé explains.
At the end of the Startup Weekend, the project was backed up by Leo Innovation Lab, an independent unit established by Leo Pharma – a Danish laboratory specialized on treating different skin conditions. This unit, dedicated exclusively to analyze aspects of the everyday life that can affect a person who has psoriasis, considered Webee as the next step to improve psoriasis patients' life.
"In Leoventures, an investment project that we have in Leo Innovation Lab, our goal is to invest in startup ideas that help us know if what we're doing is making people's life happier", Kristaps Martinson, associate of Leo Innovation Lab, says. "We believe we can find solutions for the everyday life on events like this", he adds.
For now, Webee remains only an idea. However, according to Barbé, the team will now start designing the business model in order to make it financially stable and will meet with Leo Innovation Lab in two weeks. Once done, they "will try to make this solution a reality".